Submitted by
Marieke Quinten
on 10/06/2022 - 08:16
Afbeelding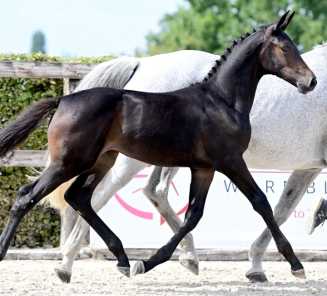 Paardenfotograaf
Willemien van de Bokke became auction topper with 12,000 euros. She is moving to the U.S. Carlos Allemeersch bred Willemien out of the combination Corlou PS x Cancara.
Wodam vd Dweerhoeve and Walinka van de Rocky Mounten were both sold for 10,000.
Wodam (Mosito vh Hellehof x Hunters Scendro - Breeder: Jean Baert) leaves for Great Britain. Walinka (Chacco Blue II x NonStop - Ludwina Drijkoningen) to Italy.
White Socks by Thornesele went for 8,500, also to the US. White Socks is a son of Ermitage Kalone x NonStop by breeder Luc De Naeyer and Sofie Verliefde.
Over the two days, it was Karel Cox who purchased the most foals. Among others, he invested in Windsor van de Hoste (Emerald van 't Ruytershof, 8000 euro), Wonderboy MDB (Burberry DK, 7500 euro), Wonderboy van Boonenbos (Kasanova de la Pomme, 7000 euro), Weckhoff van Horst (Forsyth, 6500 euro), Wocadrillo de la Ferme Blanche (Cocodrillo, 5000 euro) and Watou de Quôte (Tangelo vd Zuuthoeve, 4500 euro).
By the ponies, the standout was Daedalus van den Kievit who went under the hammer for 3,250 euros. This Washington vh Klavertje x Rob Roy vh Klavertje by breeder Martine Michiels is moving to Canada!
The small size pony that was auctioned on day 1 was sold for 2,000 euros. This was Diaz vd Nieuwe Heide: Walli vd Nieuwe Heide x Ten Ankers Bileander - Breeder: Jan Ceusters.