Submitted by
Marieke Quinten
on 12/09/2022 - 20:33
Afbeelding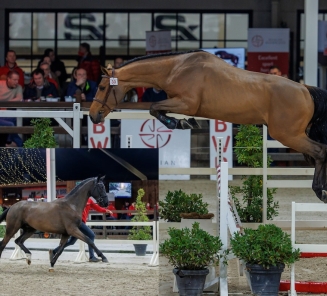 Dirk Caremans
For the first time since 2019, we may have a "normal" Second Phase of the BWP Stallion Selection Show in 2023. The number of participants will not be an issue. The registrations have been completed, the participants are known....
From January 12-14, 95 jumping stallions and 7 dressage stallions will present themselves to the judge at the Azelhof in Lier. During this Second Phase, only the 3-year-old stallions will be presented.
From March 9-11, the Third Phase of the Stallion Selection is scheduled, also at the Azelhof in Lier. Then, the sections for stallions aged four years and older will also be on the program. 29 of these "older" stallions are registered. A total of 131 stallions have thus been entered for the BWP Stallion Selection Show 2023.
Click here for the list of participating stallions.
Click here for the program and all info.
For the auction stallions, we still keep you in suspense for a while. They will be announced soon and will then appear online a little more extensively. The BWP Top Stallion Auction will take place on Saturday, January 14.