Submitted by
Lieve De Greeff
on 07/22/2022 - 16:51
Afbeelding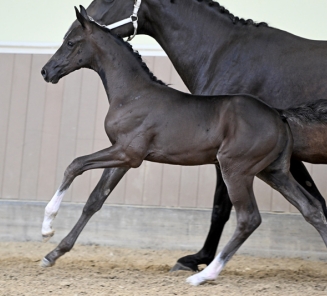 The second edition of the BWP Elite Foal Auction is finished.
After the successful first studio auction in 2021, BWP opted for a live (hybrid) auction, in collaboration with BWP Moerbeke. It was a big success!
More than 85 percent of the foals were effectively sold and with an average selling price of 12200 euro, we can look back with a happy feeling.
The most expensive foal, Why not vd Bisschop, was sold for 26000 euro and goes to the Vadebo Stabled (Paul Van Den Bosch). Why not is a daughter of Diarado x Chin Chin. Her dam is a half sister to Dulf, Holland and Estina vd Bisschop. She was bred by Yvan Dossche in Lovenjoel .
Wadonna van de Perenboom (Nixon van 't Meulenhof x Thunder van de Zuuthoeve), out of the mare line of Gunder van de Perenboom, also moves to the stables of Paul Van Den Bosch. This filly, bred by Godfried Storme, was sold for 11000 euro.
The second highest amount - 22000 euro - was paid for Wonderboy Blue vd Meersarena, a son of Chacco Blue out of the mare Prima Donna van 't Roosakker, a Comme Il Faut daughter from the performance mare line of Usha van 't Roosakker. This breeding product of Martin De Cnuydt also stays in Belgium.
Woody van't Koningsbos, a son of Cornet du Lys out of the performance mare line of Ulrike van het Lambroeck, will soon go to the same Belgian buyer. This colt foal was bred by Koningsbos Stables and was sold for 15500 euro.
For the Heartbreaker son Watson vd Bisschop, bred by Den Bisschop Stables out of the performance mare line of Usha van 't Roosakker, a Dutch buyer, Isabelle Boon, paid 17000 euro.
BWP wants to thank all buyers and sellers for the confidence and looks forward to the next edition of this auction.